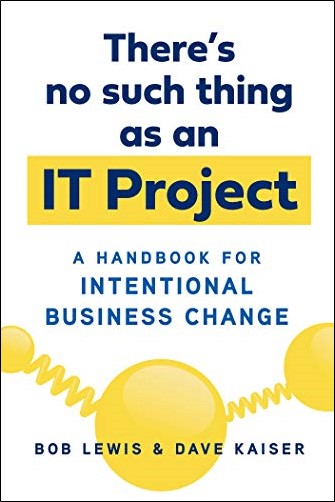 Too many businesses miss opportunity after opportunity to design, plan, and achieve intentional business change. Why? Because they charter projects focused on delivering software products: IT projects. But as this groundbreaking book points out, there's no such thing as an IT project—or at least there shouldn't be. It's always about intentional business change, or what's the point?
The subtitle of Barebones Project Management is "what you can't not do," and if you're managing a project, that's a perfect description.
This is the book for everyone who has been volunteered to lead a project despite having no training or experience in the discipline.
Bare Bones Change Management: What you shouldn't not do (BBCM) takes a radically different approach to business change. It's written for you — the leader of change on the ground. It's your toolkit to anticipate, defuse, and deal with sources of resistance to whatever change you're responsible for leading. BBCM gives you all seven of the critical tools you need when planning a business change:
Stakeholder analysis.
Involvement plan.
Metrics plan.
Structure plan.
Training plan.
Culture change plan.
Communications plan.
The two questions are, from whom (you) and how to construct the answers. (Curious? Hey, that's one of the many reasons you need this book.) BBCM was written by Bob Lewis, author of Bare Bones Project Management: What you can't not do. Same author.
The PROCESS, Technology, people model was designed for the industrial age and command-and-control management. This book introduces its 21st century replacement – customers, communities and capabilities – and explains how this new model works in a connect-and-collaborate world. What is a cognitive enterprise? It's a business that's smarter than the smartest people running it. The organization "knows" what its workforce knows; that is, knowledge is shared widely. It's a business that acts with purpose rather than being a space in which executives, managers and staff jockey for position while feeling powerless when trying to accomplish anything important for the enterprise. It's entrepreneurship that scales, and the polar opposite of what most business pundits recommend. And it's one more thing: It's the future. The Cognitive Enterprise gives you the combined expertise, experience and wisdom of popular business commentator Bob Lewis and executive-suite consultant Scott Lee. They want business executives to lead organizations that pay attention to the world around them, evaluate themselves, their changing situations, and the alternatives available to them, and continually adapt. Organizations that, to put a word to it, think.
Keep the Joint Running: A Manifesto for 21st Century Information Technology (aka the KJR Manifesto) radically redefines how IT should operate, in 13 highly practical, straightforward chapters. The KJR Manifesto debunks much of the long-held conventional wisdom … such as the importance of treating end-users as "internal customers" and the desirability of running IT as a business … that have encouraged working CIOs to isolate IT from the rest of the enterprise. It provides more sophisticated ways to approach what is usually handled simplistically – subjects like "best practices," process optimization, and metrics. And it demonstrates how human factors deserve more attention than any others for IT leaders … and for that matter, for all business leaders … who are serious about wanting to run high-performance organizations.
What do IT leaders (and, really, all business leaders) have to do to build their organizations and move them forward?
The first edition of "Leading IT: The toughest job in the world" gave you specific, proven techniques for all eight tasks of leadership. The Second Edition adds more. A lot more.
If you like metrics, it's nearly twice as long. If you like useful metrics, it isn't just longer – it has twice as much useful, practical advice, covering a broader range of topics than the first edition.
If you prefer specifics to metrics, here are just some of the new topics covered in the second edition:
> The importance of focus and alignment.
> Why leaders have to control their time – and how.
> The Edison Ratio and why it matters (yes, this is a teaser).
> Why employees who can't fail can't succeed.
> Why 'Holding Employees Accountable' is a terrible idea.
> When and how to terminate an employee.
> The role of achievement in employee motivation.
> Why money is a terrible motivator but a terrific communication channel.
> How to measure the size of a team (hint: It isn't the number of members).
> Culture clashes and what to do about them.
> Lots and lots of new guidance on persuasion and facilitation.
> Leadership challenges new to the 21st century.
If you're tired of clichés and inspiring-sounding but empty rhetoric that's devoid of concrete guidance, this is what you're looking for: A relentlessly pragmatic book, designed to help you become a more effective leader.
The IS Survival Guide is "IS management with an edge." It teaches and advises people on the best ways to achieve success in a difficult, rarely defined, and highly dynamic career. The IS Survival Guide focuses on Information Systems management issues. With the loads of readers' letters he receives each week, Bob stays very in-touch with his readership and the concerns of those in the industry. With this in mind, the IS Survival Guide will address the needs and concerns of industry professionals worldwide. Included as an appendix of its own is Bob Lewis' very popular "Management Speak". A humorous look at what Management says vs. what Management really means.
In Wisconsin Rapids, people expect to die from cholesterol poisoning or some form of cancer, either from smoking too many cigarettes or from breathing the fumes from the local paper plant.
But crushed by an elephant?
It really happened, and one of the author's fathers found the corpse. This is the true story that inspired Bob Lewis and Dave Kaiser to write about:
>The fanatical priest who accidentally caused the elephant to crush its victim, and then, inspired by the result, went on to become a serial (and highly inventive) killer.
>The detectives … one the self-described "only black person in Wisconsin Rapids," the other the only Jew … who didn't realize the priests' victims were anything more than a series of unusual, accidental deaths until it was nearly too late.
>The sexy nun who coached high school basketball, had an illicit affair with a failed businessman, and ultimately caught the priest in the act.
>A colorful assortment of victims who were killed by (in addition to the elephant): cheese, an explosion, turbines, bowling balls, and a tainted communion wafer.
>A bunch of other Wisconsin Rapids characters who found themselves drawn into the melee.
The town is real. An elephant really did kill someone there. Everything else is satire, "inspired by" a true story but otherwise far better than what actually happened.
By turns dark, brooding, whimsical, dramatic, and sometimes out-and-out hilarious, this entertaining thriller starts with an irresistible premise and finishes with a nail-biting confrontation between an insane cleric and the implacable Sister who won't rest until he's brought to justice.
Her justice.